Gate Lock Digital Deadbolt ATLAS LG203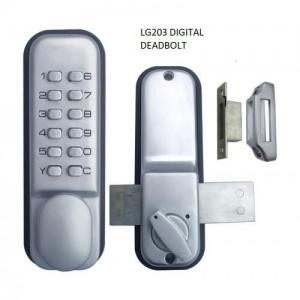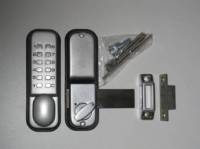 The ATLAS LG203 Digital Deadbolt is a new generation, surface mounted deadbolt with EASY CODE CHANGE.
Because it is surface-mounted, this combination lock works really well anywhere that a large hole for a deadbolt cannot be made in the door like on garden gates.
The digital keypad is only 40mm wide and fits right on the edge of the gate frame, so will fit onto box tube as narrow as 40mm square, simply drill 3 holes for installation of the surface mounted digital lock, and then mount the strike with 2 more screws and the lock is fitted.
This lock comes complete with everything you need including all mounting instructions, brackets, and trim plates.
Advantages:
Like all our keyless, combination, digital door locks, this one is great for businesses with employee turnover such as retail stores like Subway, Domino´s, Dairy Queen, and many other nationwide fast-food restaurants. With these locks, you will never again have to pay a locksmith to re-key your lock when an employee leaves...simply change the combination yourself in just minutes.
Applicatons:
And because the design and finish are so stylish, this lock is also great for homes, apartments, and condos where it can be used to secure entry doors, liquor cabinets, medicine cabinets, gun cabinets, pool gates, garden gates, safes. Parents with small children will find this lock superior in keeping kids out of harm's way.
Features:
Simple code changing procedure.
Fully reversible, lock will fit doors hung on the left or right.
Locked until correct code is entered.
Simple to fit, all parts and fixings included.
Lockbolt protrusion of 21mm.
Over 8000 codes to choose from.
Designed for standard duty usage, suitable for external & internal use, weather resistant.
Satin Chrome Finish.
Can be fitted to gates or doors up to maximum 50mm thick.
Note this lock is not self latching you need to turn the handle to lock and unlock.
ESTIMATE SHIPPING
Related Products