Key Cutting Starter Kit 2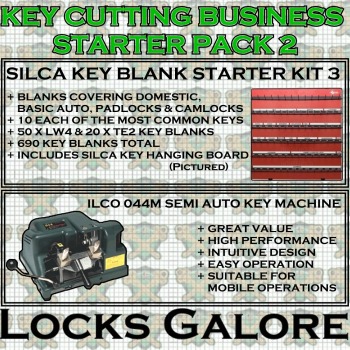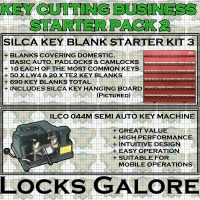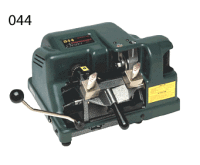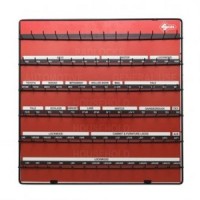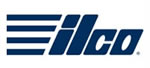 Ilco 044M Semi Auto key duplicator
The Ilco 044 Performance Series key duplicator is used for duplicating domestic, commercial and automotive cylinder keys. This model is definitely a step up in performance over other mid-price semi-automatic machines currently available. Compatible with most generators/ inverters 500watt output and higher.
Features Include:
The machines cover has been updated with new styling and colour and is fire rated for strength, and with a solid unified base casting.
Depth adjustment is accomplished using a dial type configuration which makes for easier calibration and accurate, repeatable results.
6.4cm narrower than the 024b it replaces, the 044's size and styling resulting in a machine that doesn't appear oversized or excessively bulky.
Has an efficient 1/4hp. motor that will operate with most generators and inverters of 500 watt or greater output. Great for mobile applications
4 way jaws grip virtually any key without the need for adaptors, great for double sided keys
Wide spacing between jaws to allow for longer keys and those with long bows and has a carriage stop that prevents accidental cutter contact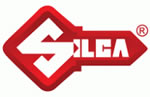 SILCA KEY BLANK STARTER KIT 3 INCLUDES KEYBOARD AND WIRE KEY HANGING FRAME
This kits comes with 10 of each key blanks of the most useful profiles across both domestic and automotive ranges. As well as 50 LW4 blanks and 20 TE2 blanks.
690 key blanks in total.
Covers domestic, basic automotive, padlock and camlock keys.
Includes key backing board and wire hanging frame.
Great starter kit for locksmiths, keycutters, shoe repairers and others wishing to offer a basic key cutting service for popular keys.
Starter kit 3 contents: (contents may change on future trends)
Blank Qty Blank Qty
SLW4 50 SAB2 10
SAB50 10 SLW5UDB 10
SAB51 10 SLW5UGR 10
SAB52 10 SLW5UPU 10
SAB53 10 SLW5URE 10
SAB54 10 SMIT11R 10
SAB91 10 SMIT8 10
SAUS1 10 SMS1 10
SCB34R 10 SMS10 10
SCB44R 10 SMS2 10
SDAT13 10 SMS6 10
SDX1 10 SNSN14 10
SFID1 10 SPZ1 10
SKS1 10 SRD2 10
SLF24 10 SSH3 10
SLF25 10 SSH5 10
SLF27 10 STE2 20
SLF31R 10 STE3 10
SLF37 10 STOY38R 10
SLF43R 10 STOY43 10
SLW13 10 SVI080 10
SLW21R 10 SVI084 10
SLW3 10 SVI086 10
SLW4R 10 SWC1 10
SLW4UDB 10 SWC2 10
SLW4UGR 10 SYA1E 10
SLW4ULE 10 SYA3 10
SLW4UOR 10 SYA4 10
SLW4UPI 10 SYA5 10
SLW4UPU 10 SYA7 10
SLW4URE 10 SYA8 10
SLW4UTU 10 SLW5 10 SVI085 10
ESTIMATE SHIPPING
Accessories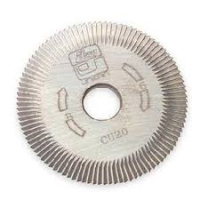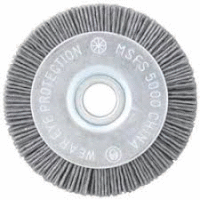 Related Products