Special Keying
You will have the option as an accessory, to key your locks keyed alike with most locks on our site.
At Locks Galore, through our locksmith division, we are pleased to be able to offer you the following services, custom built in our workshop:
Keyed Alike (.K.A.)

Multiple locks all working on the same key.
This is an ideal choice to have in the home where you have more than one lock (eg.: front door, back door, sliding door, side garage door, security screen doors etc)
JUST IMAGINE only having to use ONE key to open all locks.
Master Keyed ( M.K.)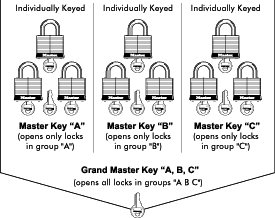 All locks have different keys and a masterkey will open all locks in that group. e.g. Popular in aged care facilities where each unit has its own key, but the manager has a master key to open all rooms in an emergency. We can also build more advanced systems with sub levels of keying and common cylinders.

You can now order your locks and cylinders, masterkeyed to your requirements online.
We can supply you with a simple one level master key system, or a more intricate, multi level master key system.
Please select which locks and cylinders you will require from our range, and email us with details of what level of masterkeying you will need, and the amount of keys at each level you will require. We will contact you with a quote as soon as possible.
Restricted Keys

Is a restricted security key, that further copies can only be duplicated by the locksmith who issued the keys.
Benefits of this system is total key control, for instance, secure records are kept when the restricted key system is set up, as too how many number stamped keys were issued.
A signature record form is kept with these records and only these approved signatories, can ever request more keys.
So you have total control over who has keys , and your employees and guests cant get unauthorized keys cut, without your written signed consent.
Lock and cylinders from our locks galore commercial range, can be supplied to you on our own restricted secure key profile, Kaba Ilco IP3.
These can be supplied as keyed alike or keyed different.
Please email us with which locks and cylinders you will require from our range, then select what type of keying, e.g. keyed to differ, keyed alike or master keyed and how many restricted keys you will need.
Email: enquiries@locksgalore.com.au
We will contact you with a quote as soon as possible.