Abus Container Lock Granit 215/100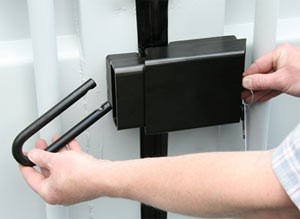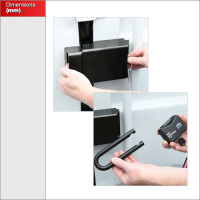 ABUS CONLOCK GRANIT CONTAINER LOCK 215/100
Shipping Container Lock Maximum Security
The Abus Conlock Granit 215/100 Container Lock is a corrosion protected maximum security lock, designed to protect most common shipping and storage containers against theft and vandalism. Also suitable for vans, gates, trailers and warehouse doors.
Dimensions:
Width: 205mm / Height: 150mm
A hardened steel casing protects the padlocks from forced attack and also the weather. A high security Granit Plus padlock then secures the door closed. These padlocks are designed with the highest possible security in mind with patented anti-pick Plus mechanisms and keys that can not be copied by conventional locksmiths.
Fitting Instructions:
The unit is supplied with full fitting instructions. The lock is fitted by two solid steel bolts on the inside of the container. The simple installation procedure means that the container lock can easily be removed and reused again on another container.
A short video illustrating the locks fitment can be seen here:
Sizes:
The Container lock only comes in a single size but it can be adjusted to fit all containers and many other applications.
Keys:
ABUS Granit padlocks come with 2 keys that cannot be copied by a standard locksmith or a key cutting machine. Your padlock will come with a special unique Code Card which you can use to purchase replacement keys in the future.
Uses & Applications:
This product is design for use on a shipping container but its unique design does allow it to secure stables, warehouse doors, vans and lorry doors.
Technology:
The ABUS Plus Cylinder is a disc cylinder whereby a stack of different discs is rotated when the key is turned. How far the key turns depends on the indentations in the key. If the discs are not correctly sequenced, a pin blocks the rotation of the cylinder and with it the opening of the lock.
Features:
Disk cylinder padlock, offering the highest protection against manipulation.
The cylinder is inserted from the top offering optimum drill and pull resistance.
The shackle and body are made from hardened steel alloy and features an integral shackle guard to protect the shackle from attack with tools.
The shackle can be removed completely.
Securing sizeable objects (storerooms, containers, lorries).
Securing objects with a high risk of theft.
Special requirements imposed by insurance companies.
Padlock Shackle Width: 29mm.
Shackle Height: 35mm.
Shackle Dia: 14mm.
Security level 10 / 10
ESTIMATE SHIPPING
Accessories