Lockwood Door Closer 2615DA Silver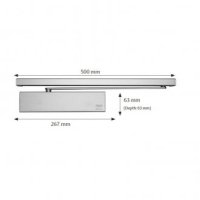 Lockwood Door Closer 2615DA Silver
Suits doors up to 100kg.
The Lockwood 2615 Series is a non-handed CAM Action Door Closer.
Due to the CAM design this premium door closer is light to open but still strong enough to close a door.
The Lockwood 2615 Door Closer can be adjusted to meet the requirements of a light door opening resistance and is ideal for both interior and exterior doors.
The Lockwood 2615 is light to open, but its adjustable closing force is high enough for heavy duty applications.
For disabled toilet applications where a breakout feature is required, the double action of the mechanism allows the door to be operated in the opposite direction for easy access into the room.
Successfully tested up to 4 hours (depending on type of doorset) on fire door assemblies in accordance with Australian Standard AS 1905.1- 2005, Part 1: Fire Resistant Doorsets.
Features:
Power adjustable EN1-5.
Adjustable back-check.
Adjustable delayed action.
Non-handed suits "push or pull" side of door.
Hold-open (when fitted) can be set to any angle up to 120° of opening.
Formed metal cover.
Fire rated.
AS1428.1 compliant.
Finished in silver.
| | | | |
| --- | --- | --- | --- |
| Recommended Door Width | Door Weight (kg) Max | Closer PowerSize | ClosingTorque (Nm) |
| 750 | 20 | 1 | 9 - <13 |
| 850 | 40 | 2 | 13 - <18 |
| 950 | 60 | 3 | 18 - <26 |
| 1100 | 80 | 4 | 26 - <37 |
| 1250 | 100 | 5 | 37 - <54 |
| 1400 | 120 | 6 | 54 - <87 |
| 1600 | 160 | 7 | 87 - <140 |
ESTIMATE SHIPPING