Telkee Adjustable Shelf Lockable Cabinet S530 T402Grey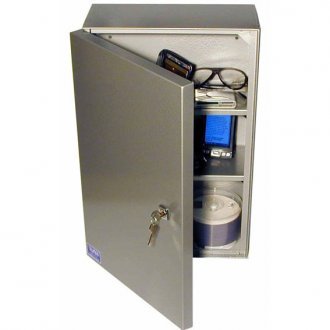 TELKEE ADJUSTABLE SHELF LOCKABLE CABINET S530 T402 GREY
Storage of your small office equipments will be easy with the use of a Telkee Adjustable Shelf cabinet. Items such as digital media storage, CD?s, Training Videos, and First Aid supplies can be securely stored away in a lockable wall mountable cabinet allowing you to keep your office organised and efficient.

Telkee Adjustable Shelf Lockable cabinet S530.
Features:
Supplied with 2 adjustable shelves & 8 shelf clips.
Standard cam locking with 2 keys LF31R.
Used for various applications (OHS, Compliance, training videos/ first aid supplies etc).
Suitable for wall mounting with 4 fixing holes (mounting hardware not included).
Available in Grey.
Model S530 which measures 530mm x 340mm x 165mm

ESTIMATE SHIPPING