Resettable Code Locker Padlock Atlas LG920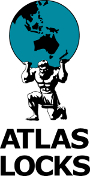 ATLAS LG920 COMBINATION PADLOCK WITH RESETTABLE CODE
The Atlas LG920 Combination Padlock with resettable code is a padlock designed for schools, gymnasium or staff lockers.
Each padlock can be easily set to a new code whenever needed, allowing the padlock to be used over and again on different codes, and if the code is lost the managers override key can not only open the padlock but also quickly decipher the code and allow the padlock to be used again.
Features:
High quality combination padlock with secure tubular key override
Zinc alloy black outer padlock housing
Hardened steel 6.35mm diameter shackle
Changeable 4 wheel combination code, with 10,000 combination codes
Ideal for schools locker security for mobile phones etc., institutions, sporting clubs
Restricted managers override key can open and decipher the existing code,

short video below showing how easily the override key can find a lost code

(key not supplied with individual padlocks, key is a restricted item & only available with bulk orders)
Dimensions:
Shackle diameter 6.35mm
Vertical shackle clearence when locked 26mm
Horizontal shackle clearence 20mm
Padlock body width 42mm
Note: No keys are supplied with the lock, the managers override keys is a restricted key and are only available for purchase with bulk orders.
School Purchase Orders can be sent through on:
Email: sales@locksgalore.com.au
Fax: 1300 913 476
Make sure your schools lockers complies with the new Victorian school locker rules:
A new ban on mobile phone use in Victorian public schools aimed at curbing distraction and cyberbullying.
Victorian Education Minister James Merlino said the ban, which would be in place during school hours in state primary and secondary schools, would start in the first term of 2020.
Key points:
•Phones must be kept in lockers from first to last bell
•The aim is to reduce distraction in the classroom and to stamp out cyberbullying
Where students bring a mobile phone to a Victorian school, the Victorian school must provide secure storage. Secure storage is storage that cannot be readily accessed by those without permission to do so.
ESTIMATE SHIPPING
Accessories