Lockey 2500 Digital Sliding Door Lock S/Ch.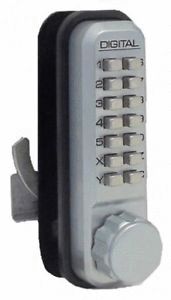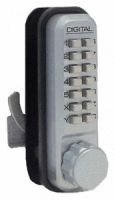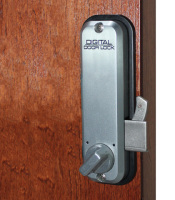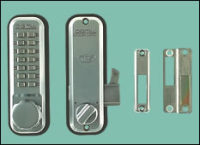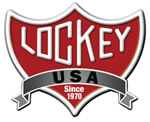 Lockey 2500 Digital Sliding Door Lock
The Lockey 2500 Sliding door lock is ideal for keyless security on sliding doors or gates at Home, Office or Holiday Apartments and Motel Units.
This widely used lock is fitted on the Sydney Harbour Ferries, and Retail shops across Australia.
Features:
Designed for sliding doors and gates.
Easy code change procedure.
comes with different strike plates allowing for rim fitting or mortice fitting of the strike plate. Supplied with a flat strike, stepped strike, and surface mounted box strike.
Easy installation, comes with all mounting instructions, hardware and striker plates.
Weather Resistant.
Inside thumbturn is always free to exit.
Outside to lock just turn thumbwheel, no need to enter combination to lock, to unlock enter correct 4 to 6 digit code and turn thumbwheel.
Dimensions: Height = 142mm Width = 40mm.
Stainless Steel lock bolt with 20mm projection.
Can be installed on doors from 25mm to 55mm thick.
Bolt extends 19mm when fully out
Reversible for left or right handed throw of the hook bolt.
Finish: Satin Chrome
ESTIMATE SHIPPING
Accessories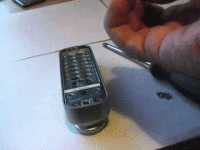 Simply write your chosen 4 or 5 digit combination (No digit may be used twice) on the order page under Extra notes, and we will set the digital lock combination to your chosen code for you before we dispatch.
Qty:

Lockey 2500KO Mechanical Digital Sliding Door Lock With Key Override is a Lockey 2500 mechanical digital door lock that does not require wires, batteries or electricity with a key override. This lock is perfect to replace your current hardware or for brand new doors. Key Override option available for outside knob only. These locks are easy to install and use, and are weather resistant.

Buy 1 or more for $328.98 ea
Buy 5 or more for $302.66 ea
Qty:

The over sized knob is a retro fit to the existing knob on the Lockey 2000 Series Digital Door Locks. Larger external handle knob is easier to grip to turn the lock.
Qty:
Related Products