Lockey 2985MGBlack Narrow Stile Digital Deadlatch Single Keypad with Lever Handles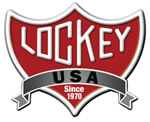 Black

Lockey 2985MG Narrow Stile Digital Deadlatch with Lever Handles

Lockey 2985 MG Keyless Mechanical Digital Adams Rite Style Latch Door Lock For Narrow Stile Doors is a bump proof, pick proof, mechanical keyless door lock that does not require wires, batteries or electricity.

The Lockey 2985 can be set to remain unlocked with the passage function or can be set to lock everytime the door closes.

When set to passage function this will allow you to turn the handles freely to open the door without a code.

BLACK marine grade finish made for salt water environments.
Features:
Marine Grade for external doors and gates
With lever handles on both sides of lock
Optional Passage Function
Bump Proof
Pick Proof
For narrow stile doors
Heavy Duty Keyless Security
28mm Backset
Fits Doors 38mm to 50mm thick,

or with optional extension kit available in accessories below up to 125mm thick

For Right Or Left Handed Doors/Changeable Handling
Lock Function:
outside enter code to open, external keypad only on this model
from inside always free to exit by turning inside lever handle, no keypad on inside of door
Mortice Lock Body Dimensions 147mm High x 44mm Deep
Lock faceplate height 174mm
Combination can be 2-7 digits in length with tumblers provided.
These locks are ideally suited to a 50mm box section gate frame, the mortice lock will fit completely inside the 50mm square frame and the keypad and inside handle mount on the outside of the frame.
If your not sure if this lock will work on your door or gate, email us a picture of the gateframe or door stile the lock is to be fitted to with dimensions of frame to: sales@locksgalore.com.au
ESTIMATE SHIPPING
Accessories