Touchpoint 120 Key Cabinet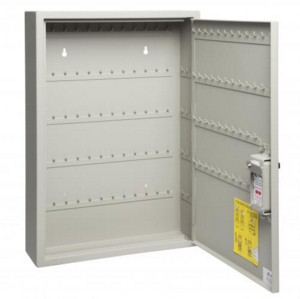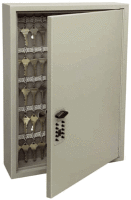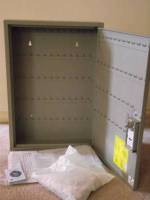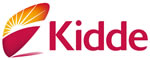 Kidde Touchpoint 120 Key Cabinet
The Touchpoint is our most popular key cabinet, and here's why no longer do you need to hand out a cabinet door key to each staff member, just enter the code into the combination lock which requires no batteries and you have immediate access to this sturdy key cabinet.
Touchpoint heavy-duty key storage cabinets hold 120 keys. With an easy to reset digital lock.
Featuring 16-gauge steel construction and a continuous piano hinge, they're stronger than other key cabinets on the market.
Keys can hang directly on the steel key hooks or on the supplied numbered key tags. The keyless QuickAccess pushbutton lock gives added security and convenience. Its unique clutch mechanism protects against forced entry. You can change the entry code as often as you'd like. There are over 1,000 different combinations available.
Features and Functions:
120 key storage cabinet.
available in sizes of 30, 60 and 120 key storage capacity.
resettable mechanical combination lock, no batteries required.
clutch mechanism protects from forced entry.
supplied with numbered keytags
finished in clay color.
Dimensions:
120 key: 489mm x 340mm x 102mm

NOTE: 120 key model has keyhooks on the back wall and the side and the inside of the door.
ESTIMATE SHIPPING
Accessories